English Learning Tips: 6 Accessible And Trusted Online English Dictionary Sites
English learning is a continuously exciting journey. Along with the excitement, you will also meet some challenges. One of which is stumbling upon new words that you find difficult to comprehend. Whether you find these words in the articles or journals you have read or even if you see it on your social media feed, hear it in a video or in the new song that you like. Traditionally you had to find a printed hardcopy of a dictionary to understand the definition. These days however, we can use the World Wide Web to find the answers to almost all questions. This article is going to recommend some of the most reliable and trusted dictionary sites for any English learner to use.
Here we compile 6 accessible and trusted online English dictionary sites that you can look up for word definition.
1. Google Dictionary
We chose Google Dictionary for the first spot due to its great accessibility. It's the fastest and easiest online dictionary to access. Google Dictionary? You might wonder. Have you seen the terrible translation of English to other languages that can be difficult to read? Indeed, there have been some classic "Google Translate" tragedies, which have made some notorious memes on the internet.
But look over, chances are you probably haven't used Google Dictionary properly. Google Dictionary as a paragraph translating tool is like a double-edged sword, it can enhance your English writing while it can also destroy its context and blur its meaning when you use it carelessly. As for the credibility and accuracy of the word definition, you can rest assured, it is delivered by the best. Google Dictionary is powered by Oxford English Dictionary. To quote from the site, Oxford's English dictionaries are widely regarded as the world's most authoritative sources on current English.
Here are the steps to use it:
· Type in google search box "<words> meaning/definition" or "define <word>"
· It will expand to a description box.
The box is very compendious. It is complete with phonetics (how you read it), audio sound on how to pronounce properly, definition (usually more than one), example in sentences, and you can even find the origin of word (also with graphic to show you how often the words have been used).
2. Collins English Dictionary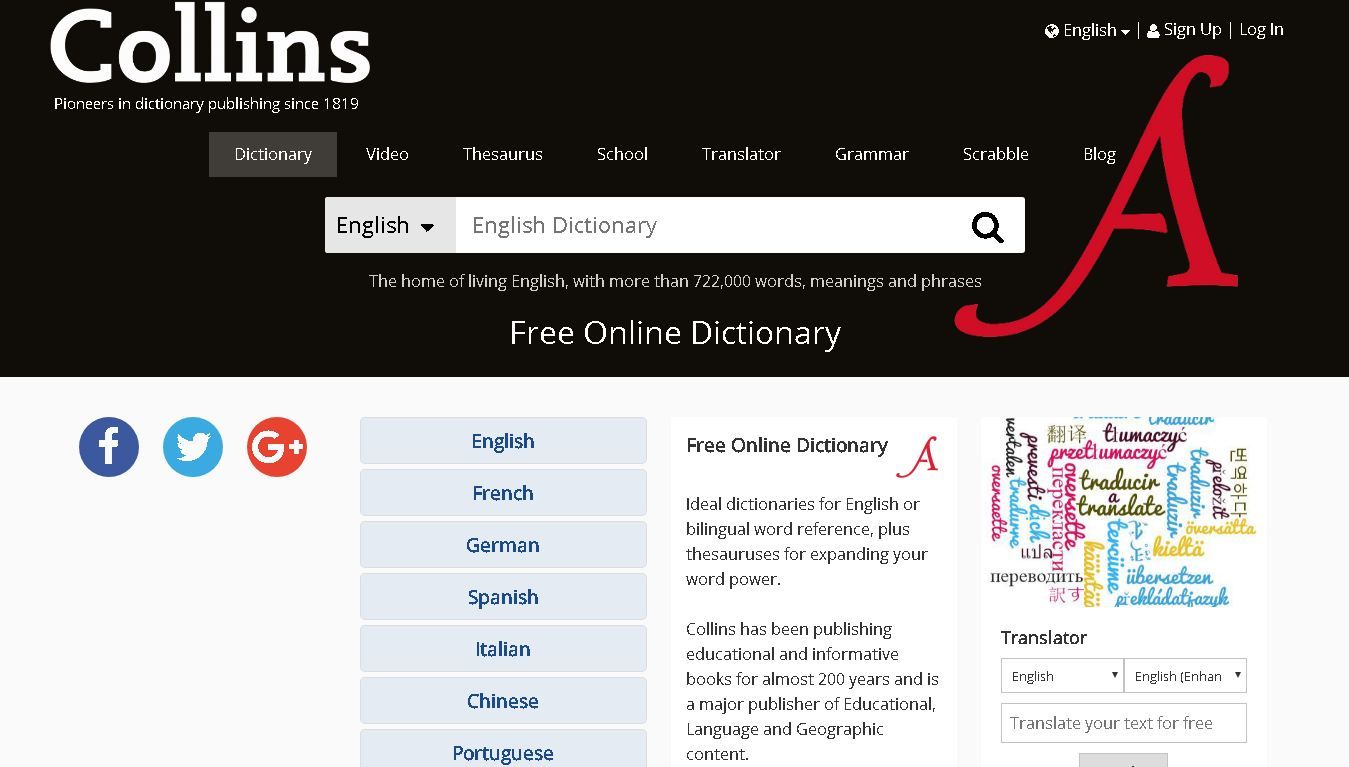 As a well-known major publisher of educational, language, and geographic content for over 200 years, it's apparent that Collins also provides a comprehensive service of English Dictionary. Collins Dictionary is popular among learners, teachers, and translators due to its broad range of words, which is over 4.5 billion words. Collin's dictionary and references resources remained sound and authoritative on account of their extensive corpora in English and other languages. Other than English, Collins also caters for French, Spanish, Hindi, German, Portuguese, Chinese, and Italian language translation.
It provides services of dictionary, thesaurus, translator, and grammar. Teachers may benefit from the vast grammar resources for teaching materials and scrabble games. As for translators, they can use the translator feature with a careful consideration that this feature still produce quite raw translation materials that needed to be further reviewed and edited. Learners can utilize the dictionary and thesaurus feature. The dictionary delivers definition, both audio and video pronunciations, phonetics, synonyms, examples, translations, and origins. You can also be aided by auto-suggest feature in the search box. This feature lets you to select the word you are searching for by just typing a few letters.
3. Merriam-Webster Online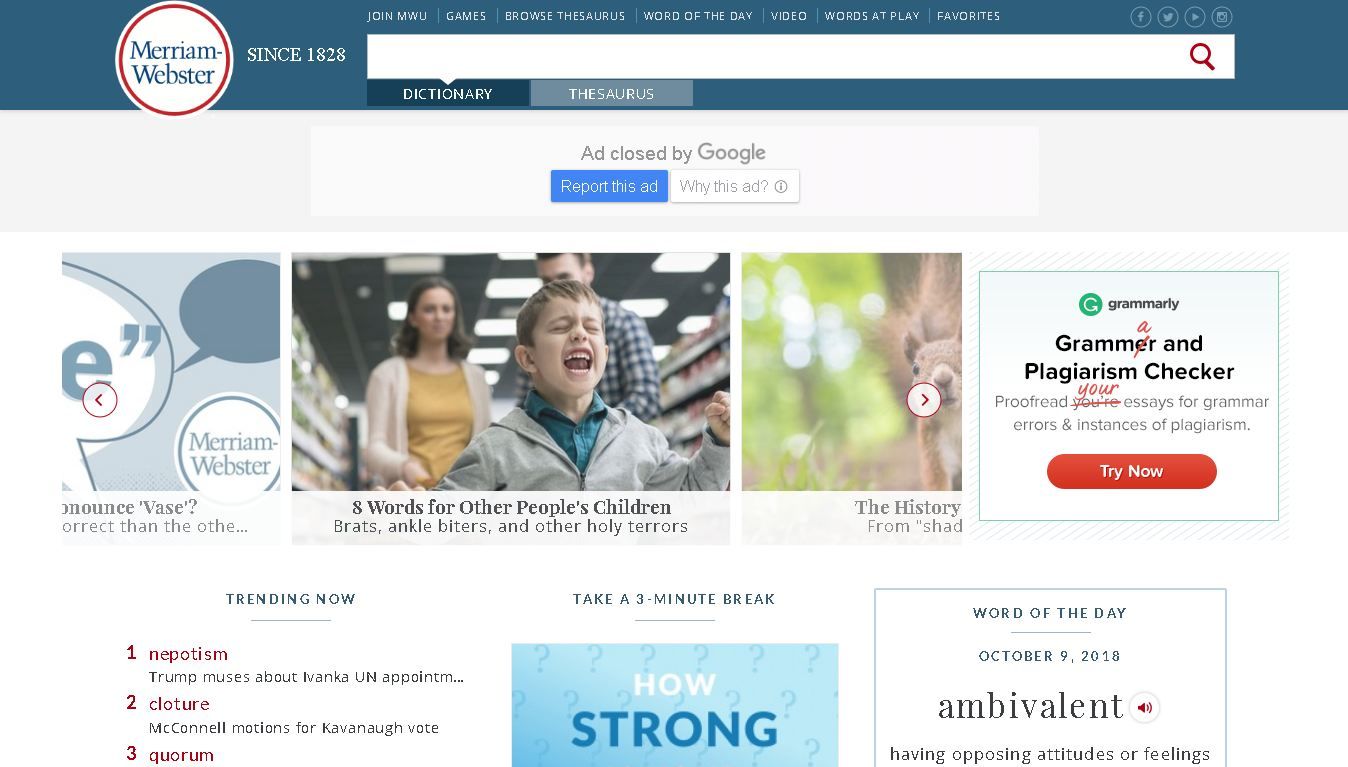 Starting its business back in 1828, Meriam-Webster is among the oldest and most reliable English dictionary and references institution in the world. In addition to publishing refined print dictionaries, it also offered a free access to online dictionary and thesaurus in their website since 1996. The dictionary services ranging from word definition, synonym, examples and brief history of the word.
Apparently it has a good SEO or perhaps it has a very comprehensive word collection thus many times it appears on a search engine top results. It also offers a playful way of learning through exciting words games, videos, and word facts. Auto-complete is also offered by Merriam-Webster in a more thorough service. It suggests whether the users want to search the intended word in dictionary or thesaurus. Its effort on rigorously expanding their word up-to-date needed to be appreciated. The wide range of its lexicon also includes science, legal, sports, business, and medical terms.
4. Dictionary.com
Dictionary.com is a renowned online dictionary which accommodates English definitions, phonetics, synonyms, word origins, audio pronunciations, example sentences, slang phrases, idioms, word games, medical, legal terms and more. Since its establishment in 1995, Millions of people have benefited to develop their understanding of English word through Dictionary.com's free online services.
The content is based on the latest version of Random House Unabridged Dictionary, Collins English Dictionary, American Heritage Dictionary and others. Dictionary.com features word directory that has been accumulated over two decades. Furthermore Dictionary.com built a strategic collaboration with Ask.com, a question answering–focused e-business founded in 1996 in Berkeley, California. In addition to English, it also provides Spanish dictionary.
5. Cambridge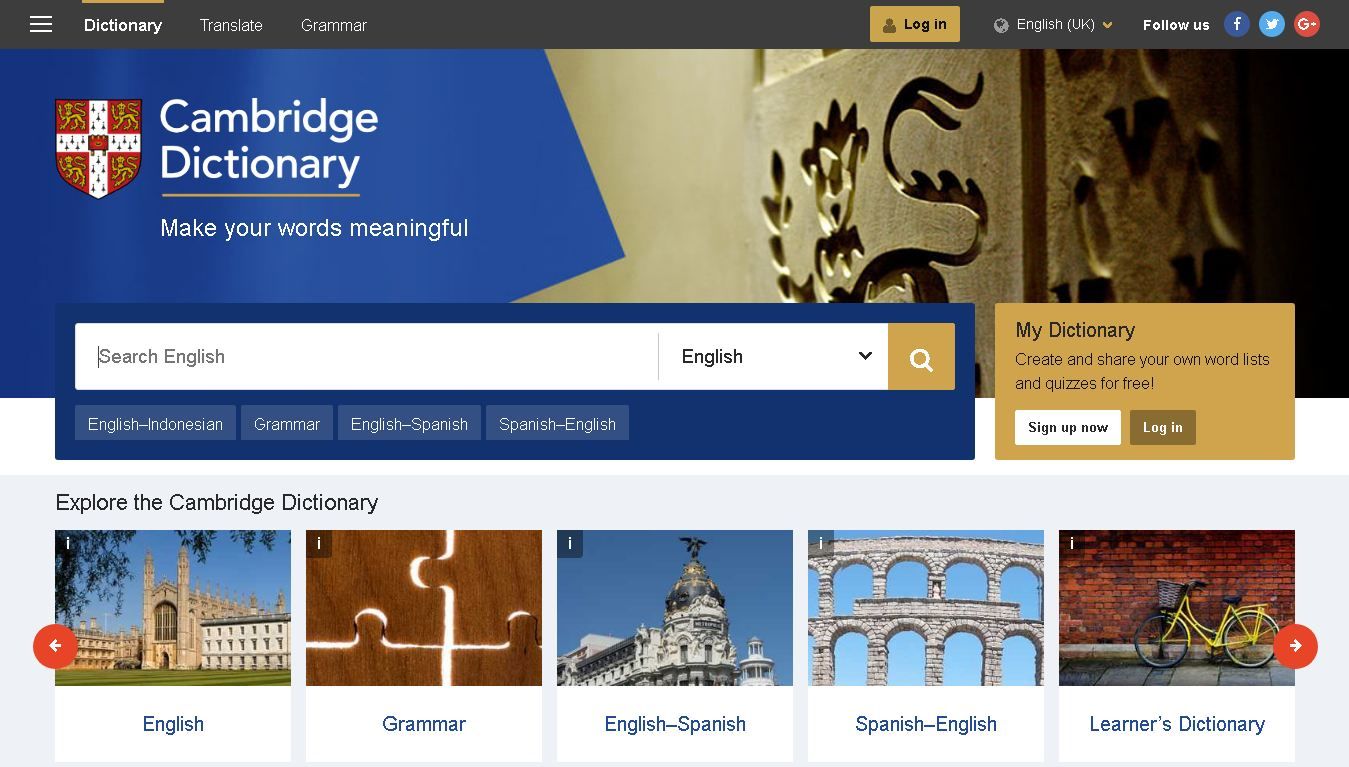 When it goes to popularity among learners of English, Cambridge Dictionary is one of the leading institution for dictionary and English learning references. Their services include dictionaries, grammar, thesaurus and translation from English to 22 other languages. The online version dictionary comprises 4 dictionaries: English Dictionary, English Learner's Dictionary, Essentials American English and Essentials British English. It offers a wide range of information such as definition, phonetics, both US and UK audio pronunciation, phrasal verbs, idioms, examples sentences, synonym and translation to other language.
Cambridge Dictionary is unparalleled when it comes to providing typically remarkable and sophisticated British English word synonyms. It also aiding a grammar study with its vast and comprehensive Grammatical references. The newly added feature of Cambridge +Plus is also compelling to be explored. It offers vocabularies and grammar quizzes also enhanced with colourful educational videos.
6. Oxford Learner's Dictionary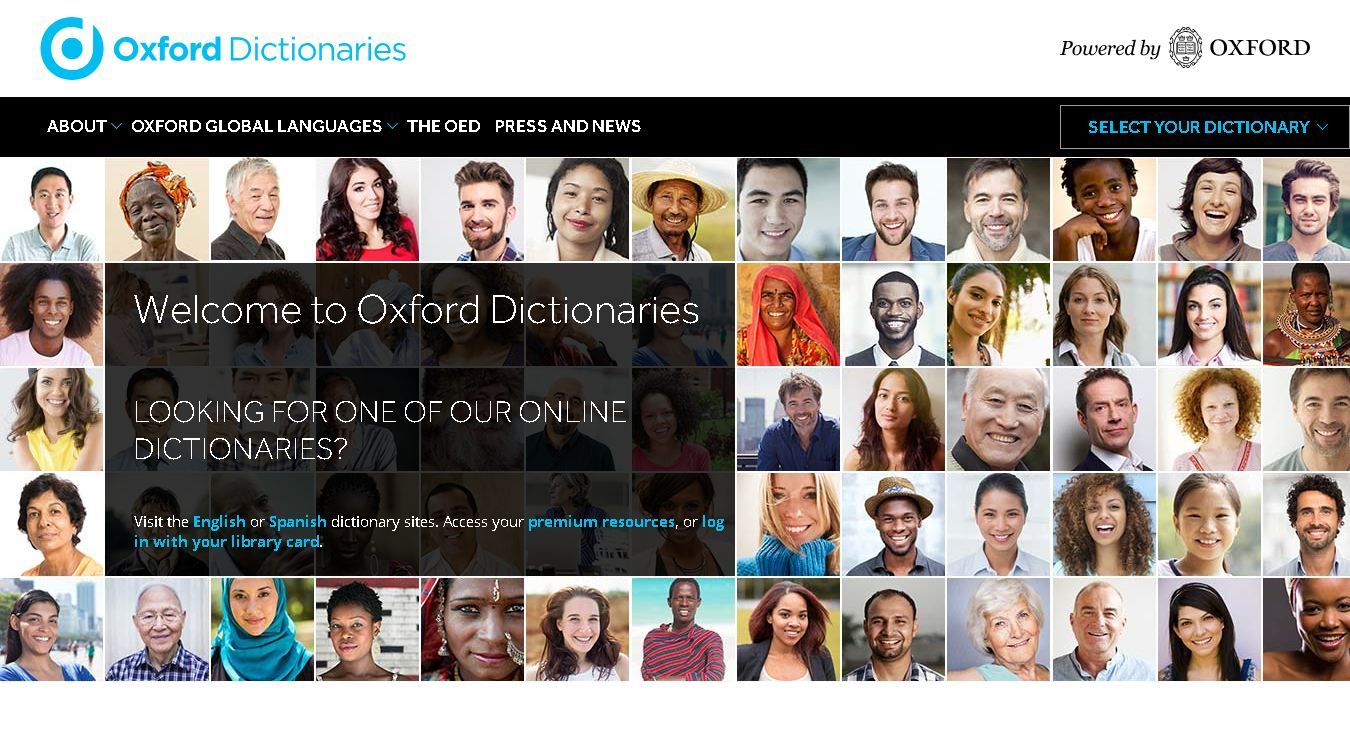 Oxford is one of the oldest and prestigious academic institution in the world. In regard to language and literature, it is also among the strongest institution which can properly provide you with the accurate information. Similar with Cambridge Oxford is also an ample platform to help define words both in British and American English. Oxford Dictionary focuses on being the beacon of a light for mainly learners, hence, the name Oxford Learner's Dictionary.
Oxford offers dictionary services in British English, American English, academic, collocations, and also German to English translation. For the purpose of enlightening the word definition, it incorporates both UK and US pronunciation, example sentences, synonym and word origin. Oxford Dictionary is an ideal partner for academic writing. One of the fascinating features is text checker, where it can assess Common European Framework of Reference for Language (CEFR) level of the vocabulary in any text. You can see how many vocabularies level exist in the text ranging from A1, A2, B1, B2 to C1. The Grammar section is worth to be visited too as it features NEW Learn & Practise Grammar(BETA) materials.
These list by all mean is not ranking the sites from the most trusted to the least trusted. You can decide on your own or if you want to cross reference you can definitely access 6 of them in the same time. Looking up for new words is good to get you used to study English on your own. But if you feel like you needed more aid to help you in your English learning journey, you can always contact English course provider and get guided not only in understanding words/vocabularies but also practice and use the proper word in the right context. So hopefully you can find your way again if you ever got lost in "translation". Keep on learning! May the words be with you!